Becky Titus
During the shutdown period of the COVID pandemic, Becky was instrumental in organizing a cruise night in Glendive. This event got people out of their homes and showed great hometown pride. At one of the turnaround spots organizations like the Food Bank, Animal Rescue, and individual medical fundraisers set up donation drop-offs for cruisers to contribute to while 'dragging' Main street. These weekly cruise nights really brought our community together and helped everyone's mental state in a dark time. This photo showed how well attended the event was.  Becky is a true Tow Rope Hero.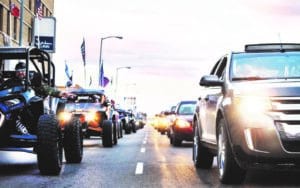 Bruce and Susan Peterson with GROW – Glendive Recycles Our Waste
A few years ago, Glendive lost their recycling center due to a fire, in the past year or so a group of dedicated community members worked to raise money, find a new location and start GROW.  Bruce and Susan Peterson, along with many others, have worked hard to bring this project to life and should be celebrated.
Jamie Shanks
Jamie is nominated for her contribution to the Healthy Communities Program and her work as Glendive Medical Center's Foundation and Marketing Director.  She also contributes to the education committee.
Josh Helvik – Wibaux, MT
Josh is being recognized for his work with Plains 2 Peaks.  This organization work with at-risk youth in areas of therapy, ministry, and personal development.  The P2P team uses the outdoors to help kids channel growth and self-esteem.  His nominator explained that the coolest thing he thought Josh had been a part of was being the organizer of a Christian concert that benefited the kids at Home on the Range, a therapeutic working ranch located in Western North Dakota.
Klasna Family – Lambert, MT
Dylan & Whitney Klasna – have literally pulled me out of snowbanks multiple times with their tractor. I work in the oil field and are in their "neighborhood" and when you work by yourself in a secluded area, having somebody to call is the greatest feeling.
The family is also very involved in the fire department. They're the "go-to" call for a rural fire in the area. They volunteer a LOT of time to keep the county from burning to the ground.
Tim Klasna – has announced the lambert high school football games for a decade, and when the local radio host passed away he stepped in and did radio broadcasts of the local basketball tournaments. He also announces at the lambert 4th of July Parade.
Liz Brown
Liz is an MD in Glendive. She has helped me and numerous other women in Glendive with her expertise. When I was pregnant with my daughter, I needed an emergency C-section. Liz knew exactly what she was doing and acted quickly. She saved my daughter's and my life. Liz is well known in the community. All of her patients have wonderful things to say about her. Glendive is lucky to have Liz!
Mayor Jerry Jimison
Jerry is Glendive's longest serving mayor, having first served in 2002. He's been a real advocate for the community supporting tons of different events and projects. He is also a big supporter of the local arts community.
Peggy Iba
Peggy has helped organize the Glendive Harvest Fest for the past 12 years or more. This is a hometown celebration with entertainment, produce, kids games, a best salsa contest, an apple cider press. The proceeds goes to a non-profit Community Giving Assistance Towards Unemployment program.  The Harvest Fest is held on the last Farmer's market of the year, and is combined with the annual Junkapalooza. The two events attracts up to 2,000 folks from miles around.
Additional Nominees
Brett Patterson – Dawson CO. Sheriff 
Glenda Kreiman 
Laureen Murphree – Dawson CO. Health Director
Mary Jo Gehnert – Dawson CO. Disaster and Emergency Services 
Parker Powell – CEO of Glendive Medical Center
Paul, Dorothy, and Andrew Sturlaugson – Glendive Broadcasting
Stephen Schreibeis – Superintendent of Glendive Public Schools
Trestin Benson-Feagler – Dawson Co. Extension
Glendive Volunteer Fire Department